Chair Maker's Drill Stops
These are aluminum drill stops designed to attach to a bradpoint bit for Windsor chair making. The ends are tapered to allow for drilling extreme hole angles in round parts for chair making.

The Chair Maker's Drill Stops are available in quantities of 1, 3, or 6 pieces in the following sizes:
- 5/16"
- 3/8"
- 7/16"
- 1/2"
- 9/16"
- 5/8"
Individual Pieces
Purchase a specific drill stop for $10.50.

3 Piece Set
Purchase any three sizes for $30.00.
Specify the three sizes in the "instructions to seller" which appears within PayPal after you click "Buy Now".
6 Piece Set
Purchase all six sizes for $57.00.
Please Note:
For other ordering options, or mixed sizes, please contact us.
Turnings
You will find a wide variety of turnings for sale to make Windsor chairs. There are several different styles of legs, stretchers back posts and spindles to purchase. Please take a minute to browses to see if there are any you like. If interested in purchasing, please call or email me a list of the part numbers for my review. The turnings can be purchased several different ways. Please go to the price list to see what's right for you. Custom turnings are available upon request. All turnings come in maple and some are available in cherry and oak in limited quantities.
Turnings Price List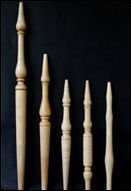 Legs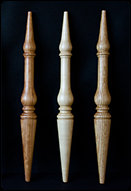 Stumps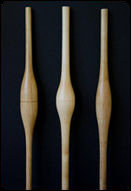 Side Stretchers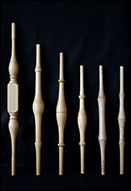 Center Stretchers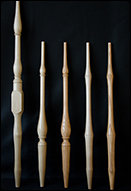 Back Posts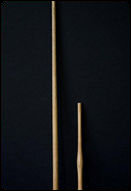 Spindles